Aged 18 in St. Ives Cornwall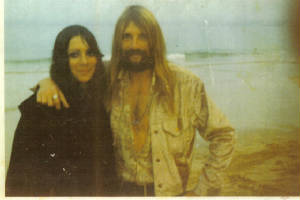 With husband No. 2
Elaine and Alex on St. Ives beach in 1973/4
We were following the trail left by Donovan and Gypsy Dave.
Would like to find the others from our hippy clan aka 'dossers'. Who shared those summer nights of '73 on Porthminster Beach, on the railway platform, in the squat, constantly hiding from the K9's.
Jon Heterich has found me, so where are you others:
Go onto Friends Reunited and see if your name is there on the group: 'St. Ives Hippies'. If you were a St. Ives Hippy, please join the group.
Enter subhead content here